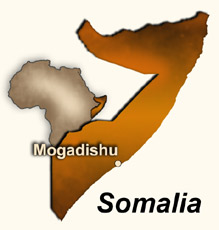 A mother of four was recently killed by Islamic militants in a village on the outskirts of Mogadishu, Somalia. On the morning of January 6, Islamic militants belonging to the insurgent group al-Shabaab arrested Asha Mberwa, 36, outside her home in Warbhigly village. According to one of her relatives, Asha was killed the next evening when the militants cut her throat in front of local people. Asha had reportedly been receiving threatening messages after al-Shabaab members monitored her phone conversations with a relative. One of her relatives had phoned her on January 5 to make arrangements for moving her family out of the area for their safety. Al-Shabaab militants were reportedly able to monitor the conversation and confirm that Asha had become a Christian.
Asha leaves behind four children -- ages 12, 8, 6 and 4 -- and her husband, Abdinazir Mohammed Hassan. Asha's relatives said that, at last report, Abdinazir had fled to an unknown location and a "good Samaritan" in Mogadishu was caring for the four traumatized children, who "continue to weep and cry out for their mother."
Pray that all those in mourning for Asha will find peace in the everlasting love of the Lord. Pray for comfort and provision for her children. Pray for endurance of faith and boldness of witness for Somali Christians in an environment of severe persecution. Ask God to work in the hearts of those oppressing Christians in Somalia, convicting them of their unjust ways and drawing them into a saving relationship with Jesus Christ.
You can learn more about persecution facing Somali Christians at Somalia Country Report.