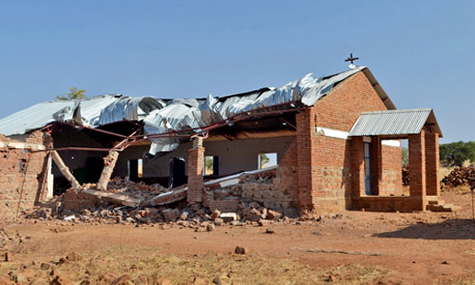 This church building, built by Samaritan's Purse,
was bombed in January.
© 2008 Samaritan's Purse.
All rights reserved. Used with permission.

A Bible school supported by Samaritan's Purse was destroyed on February 1 in the latest bombing raid to hit South Kordofan, a Sudanese province that borders the newly created independent country of South Sudan (for more on South Sudan, click here). Eight bombs were dropped in the area of Heiban Bible College during the school's first day of classes. According to eyewitness accounts, the bombing required a sustained effort with at least four flyover passes.
Fortunately, no injuries were reported. "We have been working for years in Sudan," Samaritan's Purse President Franklin Graham said after the attack. "Today our Bible school in Heiban in the Nuba Mountains was bombed by the Sudanese Air Force. No one was killed or hurt, but buildings were destroyed. Please pray for the safety of believers, and that God would intervene." Since early August, at least four churches built by Samaritan's Purse have been destroyed by bombing or burning.
Thank the Lord no one was injured or killed. Pray the Lord will strengthen the faith of the students and other believers after this attack and ask Him to provide for them. Pray the Holy Spirit will bring new life and faith to the people around the Nuba Mountains. Pray for those behind these attacks.
For more information on persecution in Sudan, visit the Sudan Country Report.