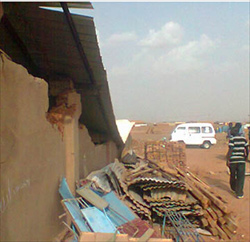 Local officials sent bulldozers to demolish
this church building in Khartoum.
Photo: Compass Direct News

Authorities in Khartoum, Sudan, demolished two church buildings on June 18, just days after confiscating three Christian schools.
One of the churches destroyed was informed in April that it, along with several other church buildings, would be demolished due to lack of structural integrity (for more, click here). However, church leaders were later informally notified that the orders would not be carried out. The destruction of the church building has raised concern that other churches will also be destroyed.
Church leaders said persecution was intensifying following the secession of South Sudan in July 2011, with officials targeting churches they claim to be associated with now unwelcome, largely Christian, South Sudanese people living in the Islamic-ruled country. Authorities have stated that there is a reduced need for Christian-operated schools because many people of South Sudanese origin (many of them Christians) have left Sudan. However, Christian leaders believe that these schools continue to meet a clear need.
Please pray that the government will allow all church property to continue being used for its intended purposes. Pray that church leaders will know the Spirit's guidance and wisdom at this time. Pray that those opposing the Church in Sudan will know Christ's love, forgiveness and blessing through the lives of Christians (Romans 12:14, 21).
For more information on the trials Christians face in Sudan, go to the Sudan Country Report.