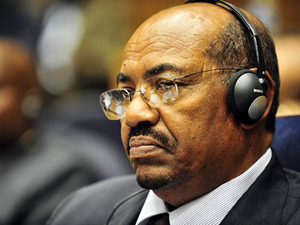 President General Omar al-Bashir
The threat of genocide looms in Sudan as Christian and non-Arab communities in three regions have been targeted by President General Omar al-Bashir, a notorious leader well known for the systematic slaughter of those who oppose Islamisation.
When the mainly Christian south seceded from the predominantly Islamic north in 2011, the government of Sudan began to persecute "southerners" (those who are politically and culturally aligned with the south) living in the north, stripping them of their citizenship and denying them rights (for more, click here).
The attempts by the Khartoum government to drive out the 'infidels' or 'blacks' (as it refers to them) from the oil-rich areas of Abyei and South Kordofan, in which tens of thousands were killed in 2011, appear to be continuing. Recent aerial bombardments have completely demolished homes and farms (including crops) in these predominantly Christian areas. Hundreds of thousands have been displaced, acute malnutrition and famine have become widespread, and access to humanitarian aid has been denied.
Please pray that these victims of injustice and cruelty will be sustained with supernatural strength and peace, as well as the miraculous provision of food and medical aid. Also pray that the government will cease in its systematic persecution. During these very troubling times, may the Sudanese believers remain faithful and demonstrate Christ to the world through their love and forgiveness.
For more information on persecution in Sudan, visit the Sudan Country Report.