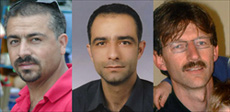 Necati Aydin, Ugur Yuksel and Tillman Geske
were three men Semir had worked with
before they were martyred.
Photo: Compass Direct News

Semir Serkek, a 58-year-old pastor in Instanbul, Turkey, says although he has experienced hostility from Muslims nearly all his life, an attack over the Easter weekend was the first time he had been physically assaulted.
Semir was alone at Grace Church preparing for the next day's Easter celebration when he heard frantic pounding at the door. Four young men in their late teens claimed they had questions and demanded to enter. They then threatened to kill him if he didn't recite the Islamic testimony of faith, and after a period of verbally harassing the pastor, one of the men kicked Semir in the chest, knocking the pastor down a set of stairs. The men then ran away laughing.
However, the attack did not deter Semir from attending a memorial service for three Christians murdered in Turkey five years ago. Necati Aydin and Ugur Yuksel and Tilmann Geske were brutally murdered by five young men in the southeastern city of Malatya in April 2007 (for more information, click here). Semir said he personally knew the three men because he worked with them at the same publishing company for many years.
The United States Commission on International and Religious Freedom has recommended that Turkey be designated as a "Country of Particular Concern" this year due to Turkey's long-term and systematic limitations on non-Muslim communities. There are about 4,500 Christian converts in Turkey.
Please pray that the men who attacked Semir will repent and be saved. Please pray that Semir's continued faith will bring God glory. Pray that the commitment of Semir and the three martyred Christians will serve to encourage other believers in Turkey that, although they are hard pressed on every side, they will not be crushed (2 Corinthians 4:8).
Go to the Turkey Country Report for more on the persecuted Church in Turkey.