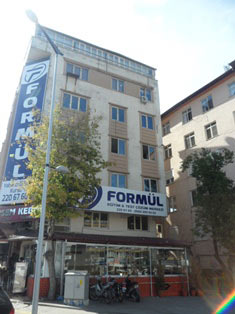 Office building in central Gaziantep
where New Life Church was located
Photo: World Watch Monitor
On August 28th, local police officials sealed the premises of the New Life Church. Then just over two weeks later, on September 14th, they detained the church's American pastor, Patrick Jensen, with orders from the Interior Ministry to deport him immediately. Patrick was held for 30 hours before being permitted to return to his home in Turkey (as his case is still pending). In addition, the believer's Turkish residence permit -- valid through to November of 2015 -- was cancelled, with a temporary 30-day permit issued until the court rules on his appeal.
Patrick was also ordered to pay 3,043 Turkish lira (approximately $1,500 CAD) for violating the country's labour laws, which require a work permit for legal employment status. However, he declined to pay the fine, arguing that he is a volunteer serving in the church. He also noted that an inspection board under the Labour Ministry had mistakenly classified the church as a place of business.
Patrick started the small congregation nine years ago when he and his family moved to Gaziantep. Between 30 and 40 adults attend the services each Sunday. Now, without any other options for a place of worship, the church group has met informally in a park and in private homes. The fledgling congregation has not yet applied for official status as an association, which is the only legal option open to register new Christian congregations.
Let us bring this difficult situation to our Lord in prayer, trusting that His will be done on earth as it is in heaven (Matthew 6:10). Specifically, please ask that He grant peace to Patrick and this congregation as they await the court's decision. May the authorities overturn the fine and deportation order, and instead allow Patrick to remain in the country and lead the church. In addition, pray that this congregation will continue to meet together for worship despite this latest obstacle, and that God will provide another suitable location for their services.
To learn more about the persecuted church in Turkey, check out our Country Report.