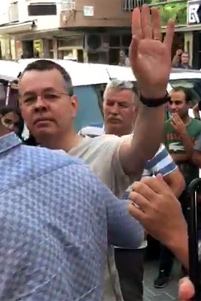 In a story that carries strong political overtones, American pastor Andrew Brunson was transferred from prison to house arrest on July 25th, despite a rejected appeal only days before. It was speculated that the move had taken place in an effort to diffuse tensions between the United States and Turkey over Pastor Brunson's arrest and imprisonment.
It is certainly an answer to prayer that he is no longer in prison. Yet the fact remains that he is still restricted and faces charges carrying very harsh penalties. David Curry from Open Doors USA affirmed, "While we are cautiously optimistic based on what we heard...there are still troubling factors. These trials can go on for a long time, and he's not been totally vindicated." For more information on Pastor Brunson's case, see this report.
Following his release, the house arrest sentencing had been appealed, but was rejected on July 31st. In response, the U.S. government issued sanctions against Turkey's Justice Minister and Interior Minister on August 1st, saying that the two men "serve as leaders of Turkish government organizations responsible for implementing Turkey's serious human rights abuses." Continue to remember Pastor Brunson during this time of uncertainty, praying that he will be freed and fully vindicated.