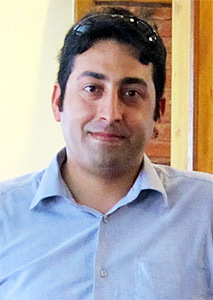 Pastor Emre
In a nationally high-profile case, Pastor Emre Karaali appeared in court on April 1st in the first trial hearing against 13 people who conspired to murder him.
Turkish police revealed the assassination plot to Pastor Emre in January of 2013 after arresting several of the conspirators. The pastor learned that more than a dozen people, including some who had infiltrated his church and babysat his children, had all been involved in a plan to kill him. (To learn more, please visit this page.)
Nine fellow believers accompanied Pastor Emre to court, but only one, a journalist, was allowed inside the courtroom. The others waited outside and prayed during the two-and-a-half-hour session. The government provided protection for the pastor coming and going from his court appearance.
Only six of the 13 charged in the plot appeared at the trial, in which the judge took Emre's statement. Pastor Emre later shared that the judge "showed a lot of interest in my beliefs. He asked numerous questions.... I was blessed with this wonderful opportunity to share the Gospel with him."
As the trial proceeded, three of the defendants asked the pastor to forgive them. In their testimony, they were apologetic and stated that they did not know what they were getting involved with. According to the pastor, the other defendants "accused me of disrespecting the Quran and of deceiving children's minds."
As Pastor Emre faces his next trial date on June 19th, he requests prayer that the trial will continue to go well and that it will be judged fairly. He also shared that he is holding fast to Isaiah 41:10, which reads: "Fear not, for I am with you; be not dismayed, for I am your God. I will strengthen you, yes, I will help you, I will uphold you with My righteous right hand" (NKJV). Pray that God will use Pastor Emre's testimony to impact the lives of those who tried to murder him, as well as the judicial authorities involved in this case.