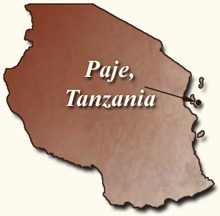 Security agents have reportedly arrested Peter Masanja, an evangelist in Zanzibar's southeastern town of Paje. Earlier this year, Peter invited fellow members of the Pentecostal Church in Zanzibar to hold religious activities in his home. Local Muslims grew angry, believing that he was planning to establish a church on his land.
In early August, Peter failed to return home and his wife grew concerned. After several days of searching for him, his wife learned that he had been arrested and imprisoned in Kilimani. Local pastors have tried to meet with prison authorities about Peter's arrest, but were told that the person in charge of the prison was away on business. (Source: Compass Direct)
Pray that Peter will be released. Pray also for his family, that their faith in Christ will grow stronger during these difficult days. Ask God to equip Christians in Tanzania through His grace to demonstrate His love and forgiveness amid great opposition.