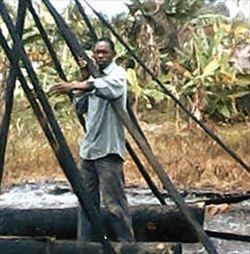 Remains of the Free Evangelical Pentecostal Church in Africa building in Kianga, near Zanzibar town
Photo: Compass Direct
On July 30, Muslim extremists burned down a church building on Zanzibar Island off the coast of Tanzania, just three days after another congregation's facility was reduced to ashes. In Fuoni on the south coast of Zanzibar, Islamic extremists torched the building of the Evangelical Assemblies of God-Tanzania (EAGT). The assailants were shouting, "Away with the church -- we do not want infidels to spoil our community, especially our children." In Kianga, the Free Evangelical Pentecostal Church in Africa was burned down in the early hours of July 27. On neighbouring Pemba Island, suspected Muslims extremists razed a Seventh-Day Adventist Church building in Konde on June 17.
Please pray the Lord will give courage to these believers so they remain steadfast in the faith (1 Peter 5:8-10). Pray the Lord will grow His church in faithfulness and in number regardless of the opposition. Pray for church unity in this nation. Pray those who oppose believers will recognise them as Christ's disciples by the way they love one another (John 13:34-35).