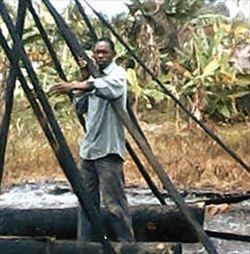 Remains of the Free Evangelical Pentecostal Church
that was burned down last year in Zanzibar.
Photo: Compass Direct News

A Muslim mob demolished three churches in Zanzibar, Tanzania, in May, bringing the total number of churches destroyed in the past 10 years up to 25.
Tanzanian Christian leaders say Muslim government officials are perpetuating the persecution by refusing to bring attackers to justice and failing to help the victims rebuild.
"About 200 Muslims were shouting, 'Tabir, Allahu Akbar' as they attacked our churches. I was nearby my church when they destroyed it," said a Christian leader who asked to remain anonymous for security reasons. He also said attackers are becoming bolder by targeting churches in Zanzibar, as previously it was the village churches that were attacked.
Please pray that officials in Zanzibar will rise up, seek justice, and defend the oppressed (Isaiah 1:17). Pray that the Lord will provide for the needs of those believers who lost their church buildings. Pray that Christians in Zanzibar will confidently entrust themselves to Christ so that they can preach the gospel without hesitation (2 Timothy 1:7-12).