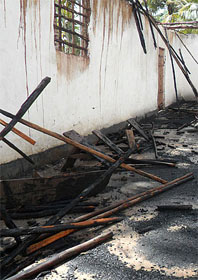 The EAGT church in Mafia
was burned by radicals.
A church in the predominantly Muslim area of Mafia was burned down on May 9th just hours before a scheduled prayer meeting.
Militants had threatened the church and the pastor, Ombeni Omari, for the past two years. Pastor Ombeni, a Christian convert from Islam, escaped to Dar es Salaam with his wife and three children after learning of the attack. He had founded the almost 60-member church -- the only Christian church in the area -- which consists of mainly converts from Islam.
Although the church building was destroyed, Pastor Ombeni said he will return to the area because the work he was called to do is not yet finished.
Pray that, despite the destruction of their church building, this congregation will continue to meet together for worship (Hebrews 10:25). Ask God to be near Pastor Ombeni and his family, giving them much wisdom as they discern their next steps. Please also pray that those who perpetrated this attack will repent and come to faith in our Living God.