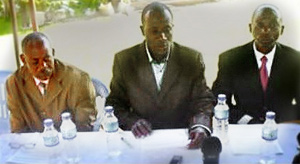 Pastor Crodward Edwar (centre) at a
press conference about the Bukoba murder
Photo: Harakati News blog via World Watch Monitor


On October 9th, a Christian man was killed and another seriously injured when suspected Islamic militants attacked them with machetes in Bukoba.
The brutal assault occurred after Dioniz Ng'wandu, a 31-year-old secondary school teacher, and Temistores, 25, attended an early morning prayer meeting with their pastor, Faustine Joseph, and a fourth unnamed man at their church building. After the pastor and the other man left, masked assailants entered the building and attacked the two remaining believers, killing Dioniz and severely injuring Temistores' left foot. Dioniz leaves behind his wife, Faith, and their two children, four-year-old Michael and two-year-old John. According to Pastor Faustine, church members had been receiving threats from militants who vowed to decrease the number of Christians in the predominantly Muslim area.
"Attacks against Christians are increasing in Tanzania despite the efforts of the government to control them," reports The Media Project, a non-profit group that works globally with local journalists. "Some religious leaders and lay Christians have been killed, while others have been attacked by extremist Muslims wielding acid. Some of the perpetrators have been arrested and charged, yet their cases continue in courts."
In the aftermath of this violent crime, pray that God will comfort and provide for Dioniz's widowed wife and their two young children. May He also grant physical and emotional healing to Temistores as he recovers from his injuries and the trauma of the attack. Please pray that God's peace will rest on Pastor Faustine and the members of the congregation, and that His divine protection will be upon them as they continue to boldly worship together despite the risks. In addition, pray that the church in Tanzania will stand firm in the face of mounting pressure. Finally, please ask God to work in the hearts of the country's officials, giving them much wisdom in the process, so that they will endeavour to do more to protect vulnerable Christian communities.