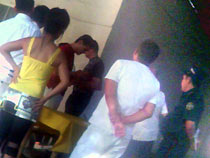 Police interrogating members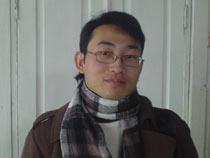 Pastor Vladimir Tyo
Photos from Forum 18
On August 23, approximately 20 Uzbek police officials raided the Donam Protestant Church in Tashkent, Uzbekistan during a Sunday worship service, according to an August 26 report from Forum18. The authorities claimed that the service was an "unauthorized" religious meeting and demanded that all those present submit their names and addresses. Although the church leaders presented all the necessary documents proving the church's registered status, the police ignored the documentation and continued with their threats and interrogations. A few hours later, police arrested Pastor Vladimir Tyo and seven other believers. Three of those arrested, were released within 24 hours. The next day, the court sentenced Pastor Tyo and the three others to 15 days in detention and ordered that the Christian literature and videos that were confiscated during the raid be destroyed. This is a significant setback to religious liberty in Uzbekistan as this incident marks the first time a legally registered church has been raided during worship and its leaders arrested.
Pray for persevering faith for these believers. Pray that Uzbek Christians will continue to courageously serving Christ amid great opposition.
To learn more about the plight of Christians in Uzbekistan, click here.