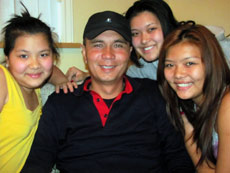 Pastor Shestakov reunited with his daughters
Former prisoner of conscience Pastor Dmitry Shestakov, who was recently released from a four-year jail sentence, remains under the severe restrictions of "administrative supervision."
For one year, Pastor Shestakov must report to police in-person almost every week. He may not be outside his home between 9 p.m. and 6 a.m. He may not leave his hometown without written police permission. He cannot visit public places such as restaurants. The term of administrative supervision can be extended, and the punishments for breaking the supervision include imprisonment for four years. The authorities have refused to explain the reason for the restrictions.
Thank God for Pastor Shestakov's release from prison. Ask the Lord to help him and his family overcome the suffering they have experienced and give them continued faithfulness and perseverance. Pray Pastor Shestakov's testimony will strengthen the faith of other Christians. Pray for the Holy Spirit to encourage all believers currently serving time in prison for following Christ.
Learn more about the persecuted Church in Uzbekistan at the Uzbekistan Country Report.