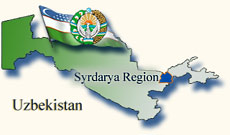 Authorities who raided a Christian meeting in Syrdarya Region, central Uzbekistan, in January, are reportedly preparing to prosecute several of the Christians present. On January 6, 12 police officials broke into the home of Pastor Andrey Shevchenko, where approximately 25 members of an unregistered local Baptist church were gathered to celebrate the baptism of Christ. The officials confiscated DVDs, CDs and Christian books. They also forced some of the believers to write statements. Pastor Andrey showed the police documents proving that the material had been purchased from the officially registered Bible Society of Uzbekistan. However, police told him that the literature would be sent to the State Religious Affairs Committee in the capital Tashkent for "expert analysis." In early February, police reported that they are planning to prosecute Pastor Andrey and other local Christians under the code of Administrative Offences for "violation of the law on religious organisations" and "illegal storage, production, import or distribution of religious materials."
Pray for strength of faith for these Christians as they face opposition. Pray they will not face charges or fines. Pray they will bear witness to the love and grace of Christ, even to their persecutors. Pray Uzbek authorities will treat all of their citizens with true justice.
You can find out more about the trials facing the Church in Uzbekistan at the Uzbekistan Country Report.