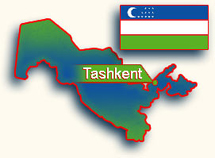 An Uzbek Christian was recently assaulted and fined in the capital city of Tashkent for giving a children's Bible to one of her work colleagues in 2010. On April 1, Galina Shemetova was leaving a hospital after medical treatment, for which she had been granted sick leave from her work at the local subway station, when she was accosted by a police officer. The officer struck her on the head and dragged her into a police vehicle. The same day, Galina was charged with "attracting believers of one confession to another (proselytism) and other missionary activity" and fined 50 times the minimum month salary in the country (approximately $1,400 CAD). The officer who assaulted Galina claimed that she was "hiding from police for one week [by] pretending to be ill" and when asked what she had done wrong, said "she is a missionary and violated the law."
Pray Galina will continue to be steadfast in her faith, trusting in God's provision and guidance (1 Peter 5:8-10). Pray Uzbek Christians facing similar trials will keep their eyes on Jesus, persevere in the faith and not grow weary or lose heart. Pray persecutors throughout Uzbekistan will be challenged by the consistent testimony of Christ's followers and be drawn to Him.
To learn more about the persecution of Uzbek Christians, go to the Uzbekistan Country Report.