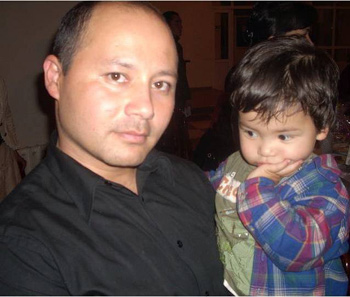 Makset Djabbarbergenov with his son
Photo courtesy of the Djabbarbergenov family
Uzbekistan is seeking to extradite a detained refugee, Makset Djabbarbergenov, from Kazakhstan on charges which carry a maximum 15 year jail term. Makset, a Protestant pastor, has been recognized as a refugee by the United Nations High Commissioner for Refugees.
Makset, who fled to Kazakhstan, is being sought by Uzbekistan for exercising freedom of religion or belief in his home town of Nukus (for more, click here). On October 15, a court in Almaty, Kazakhstan, authorized further detention until November 5. The court also claimed that the Uzbek charges -- which seek to prosecute exercising freedom of religion or belief -- can be equated to terrorism-related charges in Kazakh law.
Makset's wife has been stopped by Kazakh authorities from visiting him, as has a human rights defender who found he is being held in solitary confinement. The Supreme Court claims it cannot find an appeal he lodged in August.
Please pray the Lord will intervene in this case and that Makset will not be deported. Pray the Lord will give Makset and his wife the strength to remain faithful so that He will be glorified as they steadfastly fix their eyes on what is eternal (2 Corinthians 4). Pray the Lord will strengthen His church in Uzbekistan and Kazakhstan.
To learn more about Uzbekistan's persecuted Church, go to the Uzbekistan Country Report.