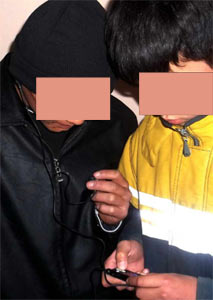 Two young children look at a
media player in Uzbekistan where it is
illegal to own Christian materials.
On August 2nd, authorities raided the home of Pastor Stanislav Kim in Chirchik, detaining 11 teenagers and three adults who had gathered for a volleyball game. Although Pastor Kim (who leads an unregistered church) and his son were not taken into custody, they are expected to face heavy fines. The adults and teenagers were questioned for more than four hours before being released. The authorities also searched Pastor Stanislav's home and confiscated a New Testament, a Bible, several other Christian books, more than 100 slides of hymns, and computer equipment.
Though a secular state, Uzbekistan's religion law bans unregistered religious activity and, therefore, the government relentlessly persecutes Christians. Because it is nearly impossible to obtain church registration, there are about 65 unregistered fellowships scattered throughout the country.
Please pray that this pastor and his son will not face fines, but will soon be acquitted of any perceived wrongdoing. Ask God to strengthen each believer who was present during this unwarranted raid so that they will not give in to governmental intimidation and pressure, but instead be emboldened to serve our Lord faithfully. In particular, pray that the teenagers involved will continue to grow in their faith and become strong leaders within the church of Uzbekistan. Please also lift up in prayer this Central Asian country, asking God to use His people there to achieve His greater purposes.
To learn more about the persecuted church in Uzbekistan, visit our country report.