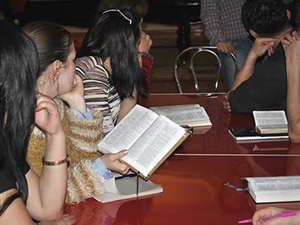 It can be costly to own religious literature in Uzbekistan.
Photo: Barnabas Fund
In Uzbekistan, where Islam is by far the predominant religion, religious gatherings without state permission are forbidden. On trumped-up charges, such as planted "evidence," Uzbek authorities continue to raid meetings, and even casual gatherings, particularly those of Full Gospel Church members.
On September 5th, police raided a private home in Syrdarya belonging to a Full Gospel Church member who was meeting for tea with friends. Anti-terrorism police claimed they were holding a religious meeting without state permission. In court, the homeowner testified that the Bible, personal diary and VCR "found" in his house did not belong to his group and he didn't know how they got there. After a false witness testified against him -- the same false witness who testified against nine Baptists in a previous trial -- he was charged 55 times the minimum monthly salary (about $2,450 US), while three others were fined ten times the monthly salary. A selection of the group's literature, including two Bibles, was also destroyed.
A rash of raids has erupted since this past summer. Among those known, on September 5th, Tashkent's Yangiyul District Court fined a Full Gospel Church and four of its members two to three times the minimum monthly salary and also destroyed their Christian literature. On October 22nd, Tashkent police raided the apartment of a Protestant group. Nine members and the apartment owner were fined from 20 to 25 times the minimum monthly salary. They were ordered to hand over their Bibles to the Russian Orthodox Church, but teaching materials and a computer were destroyed. Two days later, a private home of two Full Gospel Church members in Tashkent was raided. Each was fined 30 times the minimum monthly salary and 30 Christian books were destroyed. Also, on October 27th, the Tashkent Regional Criminal Court fined 18 church members from five, up to 80, times the minimum monthly salary.
Most ironic, the Samarkand City Criminal Court fined a Seventh-day Adventist 20 times the minimum monthly salary back on September 12th, also confiscating Christian materials, a laptop computer and a tablet device. Why? Reportedly, as a reprisal for the Adventist's application requesting state registration. For other stories of persecution in this country, review VOMC's country report.
As we intercede on behalf of our fellow Christians in Uzbekistan, mindful of the privileges we have in North America to own Bibles and Christian literature without worry of confiscation or house raid, let us raise our voices up in prayer for God's intervention in each of their cases and for His provision to be made available to cover the cost of these fines and replace the items taken from them. Pray that the leaders of this country will realize the importance of the Christian faith for the betterment of the people, and for society as a whole. In fact, may these leaders discover for themselves the joy that comes from accepting Jesus as Saviour and making Him the Lord of their lives!