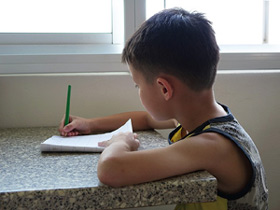 Students were bullied into writing
statements against their pastor.
Police in Dostabod, near the capital of Tashkent, have pressured five orphans to write scathing reports against Pastor Sergei Rychagov of Grace Presbyterian Church. With permission from the head teacher of their boarding school, the youths had spent their Saturdays at a private house next to the church where they ate meals and worked on the grounds. On Sundays, they attended church services.
Based on statements written by the youths in late 2014, Police Captain Mirjasur Anvarov has pressed charges against Pastor Sergei. Judge Khakim Malikov ruled that the church leader had violated four grounds in the Code of Administrative Offences, including violating the procedure for holding religious meetings, carrying out unauthorized religious meetings, proselytizing, and teaching religious beliefs without specialized religious education and permission from central authority. Judge Malikov fined the pastor the equivalent of approximately $3,675 U.S.
Local Christians have claimed that, throughout the ordeal, the government has engaged in illegal practices and put forth dishonest charges. Although the court hearing took place on February 27th, the government failed to inform Pastor Sergei about it until June 22nd, inhibiting him from testifying on his own behalf. Furthermore, contrary to the government's claim, the pastor indeed has a religious education and his church is officially registered with Tashkent Region's Justice Department.
Please remember Pastor Sergei and his congregation in prayer. May they be encouraged to continually keep their eyes fixed on the Lord, who has promised to walk closely with them throughout this time of trial (Psalm 116:1). Pray that as they trust in Him -- their Counsellor, Mediator and Friend -- they will experience His wonderful reassurance and peace. In addition to God rendering justice in this situation -- resolving it in Pastor Sergei's favour -- let's also pray that the accusers will come to repentance and the acknowledgement of Jesus as their Saviour. Last, but not least, intercede on behalf of the orphans who were forced to write the accusatory statements, praying that they will experience the healing love of Jesus and His restoration in their lives.