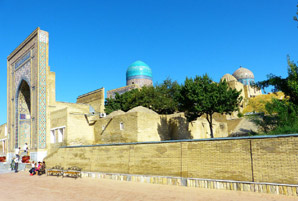 On November 10th, police in Andijan raided the private flat of Irina Stepanova, a member of a local state-registered church. Police alleged that they were looking for an illegally stored gun but instead concentrated on the confiscation of her Christian books. The five officials who entered Irina's home did so unannounced -- without a legally required search warrant and proper identification. She now faces charges for possessing Christian books and other related materials.
A little over a week later, 14 officials from various agencies, including the Extremism and Terrorism Department of the local police station, raided the home of Stanislav Kim in Urgench. Believers visiting the home to participate in a Sunday morning worship gathering were arrested, interrogated, threatened, and had their Christian books confiscated. When one of the participants admitted under interrogation to reading Christian books, their personal collection (including a Bible) was confiscated during a raid that took place shortly thereafter.
In other areas nearing the capital city of Tashkent, police raided the private homes of congregation members affiliated with another state-registered church -- confiscating literature such as the United Nations' Special Rapporteur on Freedom of Religion or Belief. During the raids and searches, police committed multiple violations of legal procedure. Despite the officials' infractions, three people (including a pastor) were fined for exercising freedom of religion and belief.
In Uzbekistan, only religious communities with state registration are allowed to exist, a restriction that does not comply with international human rights law. In addition, the strict censorship of all religious literature is enforced; and even texts that have passed the state's censorship are routinely confiscated. Officials have also ordered that believers are not permitted to read religious texts -- such as The Holy Bible -- in their homes. As a result, citizens with beliefs differing to those sanctioned by the government are afraid to keep religious literature in their homes and, with great sadness, some have had to destroy their own religious texts due to the country's stringent regulations.
In the midst of the opposition and resulting restrictions, pray that the Christians in Uzbekistan will remain firmly rooted in their faith. May those affected by the closures and loss of resources be reminded of God's ability to provide daily spiritual manna for their sustenance and continued growth as He brings about restoration (Joel 2:25-27; Zechariah 9:12). Also pray for the officials responsible for enforcing the restrictions, in hopes that their spiritual eyes will be opened to the truth of the Gospel so they can personally behold the "Living Word" and serve as catalysts of revival in their nation. May the Lord indeed pour out His Holy Spirit, turning the hearts of all who bear witness to His transformative love towards Him and His ways which lead to abundant and everlasting life (John 3:16; John 10:10).