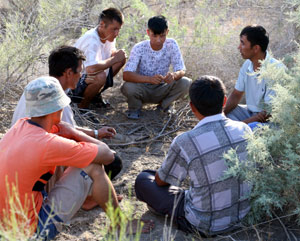 On November 25th, a Baptist church in Tashkent was raided. While not an unusual situation, this is the first time such a raid included members of the Uzbek military, as the National Guard joined 20 plain clothes officials from the secret police, the Justice Ministry, and the district police.
Official searched throughout the building, confiscating over 7,000 items - including literature, songbooks and DVDs. Fourteen of the church attendees were taken to the police station where they were detained for over nine hours and then forced to sign statements that they had participated in an "unauthorized meeting."
When asked why the secret police and military were there, the Christians were told "it is a special operation" without receiving any further clarification. Officials have demanded that all churches register; something many refuse to do fearing government interference and control.
Raids against Christians do not only happen in organized meetings. On November 19th, a group of believers in eastern Uzbekistan were sharing a meal when police entered the apartment. They confiscated Bibles, DVDs, CDs and assorted literature, even though all the items had been purchased through the state-registered Bible Society of Uzbekistan. Two computers were also confiscated without a warrant. The police claimed that the literature would be sent for "expert analysis," which often means it will be destroyed. More accounts of religious opposition in Uzbekistan are available at our country report.
Remember these Christians and others throughout the country who are facing ongoing pressure from officials. Pray that the Word of God will continue to spread unhindered. As the officials review the confiscated literature, may it pique their interest in Christianity and be powerfully used to convict them of their own need for Christ.