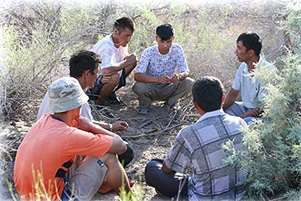 A small number of religious communities in Uzbekistan received their registration in late 2019. However, many others are encountering major obstacles in their attempts to obtain registration, which would allow them to function legally. While Christians are one of the religious communities affected, other groups are facing similar impediments -- including bribe demands, land use permits and outright rejection. Some have chosen not to apply at all, believing they will be rejected anyway.
Uzbekistan is predominantly Sunni Muslim and differing religious groups have frequently faced issues. In Bukhara, a Shiite mosque was closed, and police have pressured the members to drop a petition to have it reopened. Roman Catholic parishes continue to wait for registration with no response. Other groups, like the Jehovah's Witnesses, have been directly rejected.
For the Tashkent Protestant Church, registration has been denied because officials claim there is no valid legal address. As a small church, the congregation members cannot afford to purchase a building at this point. Another church would not be able to assist them because only one religious organization is allowed at a single address. Without registration, the congregants need to notify local authorities of any scheduled meetings, including gatherings taking place in members' homes.
The Baptist Union congregation in Gulistan submitted a registration request in late September. They were informed that a certificate is required from the Land Registry office. To date, they have not received a response from the registry office. They were also informed of a required letter of endorsement from the chair of a local committee. However, that chairperson is making repeated demands, including a mandated list of all church members' names and their passports. For more information on the numerous challenges facing Christian communities in Uzbekistan, go to our country report.
Pray that God will work mightily in the hearts and minds of Uzbekistan's governing leaders, helping them to realize the need to respect the rights of all citizens. Ask that every obstacle will be removed so these churches can proceed with ministry in their communities. In the meantime, while serving as a Mediator among officials regarding the required registration, may God's Spirit ensure the ongoing proclamation of the Gospel throughout the nation.