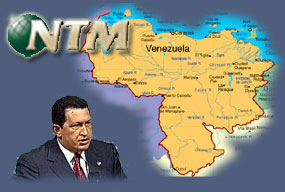 Venezuela's interior ministry has given Americans serving with New Tribes Mission 90 days to leave any area of the country with indigenous people. The resolution was officially published on November 15, revoking a permit given to the mission more than 40 years ago.
Tensions between the U.S. and the socialist government of President Chavez have been high in recent months. The New Tribes Mission workers have been accused by Chavez of spying for the CIA and foreign commercial interests. Chavez's initial order in October was issued only a few days after U.S. preacher Pat Robertson leveled various accusations against Chavez and suggested that his assassination may be appropriate.
Please pray that President Chavez will have a change of heart and allow New Tribes Mission to stay in the country. Pray that the leadership of NTM will know how to best lead the mission through this uncertain time. Pray that the Lord will raise up believers to carry on the torch so that the church of Christ can move forward in those remote areas where the gospel has been preached.