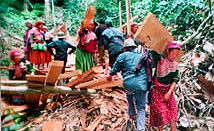 Constructing the Cu Hat Church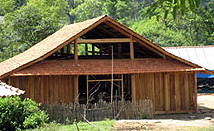 The Cu Hat Church before demolition
In September 2008, a congregation of more than 500 Hmong Christian who had fled persecution in Vietnam's northwest provinces for the Central Highlands began building a chapel where they could worship protected from the rain and sun. When they had earlier notified local authorities of their plans, they were told they would never get permission. It would be useless to even ask. An application to build a chapel would only be considered when their denomination was granted legal recognition and all attempts to do so had been repeatedly ignored by authorities, contrary to Vietnam's new religion legislation.
Because of their urgent need, they determined to go ahead. Before the walls of the 12-metre by 20-metre chapel were completed, officials ordered the believers to stop building and tear down what had been constructed, claiming that the lumber was cut illegally. The Cu Hat congregation met, prayed, considered and decided that they could not comply. Although virtually all buildings in this area of Vietnam are erected without building permits, local authorities accused the Christians of "illegal construction" and ordered the congregation to "voluntarily" tear it down. On December 2, 2008 the district officials made a formal decision to demolish the church within two weeks if the Christians would not do so themselves.
At 7:00 a.m. on the morning of December 17, a large contingent of government officials, police and demolition workers destroyed the Cu Hat Church building (
click here
to read more). Wielding electric cattle prods, police beat back hundreds of distraught Christians who rushed to the site to protect the building. Five people were injured, including a child who suffered a broken arm and a pregnant woman who was prodded in the stomach. After the workers had loaded the lumber onto their trucks, they emptied sacks of the Christians' rice on the ground, put the roof tile into the sacks and sped away. In 90 minutes, the destruction was complete.
Within a few days the Christians dared to build a temporary shelter of bamboo and tin to have a place to worship and celebrate Christmas. At last report, authorities were threatening to tear it down too.
You can get involved in protesting this illegal action by the Vietnamese government!
Download a letter of protest and encourage people to sign it. Take it to your church or office. Once you have a number of signatures, send it to the Vietnamese embassy in Ottawa:
His Excellency Duc Hung Nguyen, Ambassador
Embassy of the Socialist Republic of Vietnam
470 Wilbrod Street
Ottawa, ON
K1N 6M8
In the United States:
His Excellency Le Cong Phung, Ambassador
Embassy of the Socialist Republic of Vietnam
1233 20th Street NW, Suite 400
Washington, DC
20037