Police and government officials raided several house churches in Vietnam in recent weeks, according to an August 6 report from Compass Direct.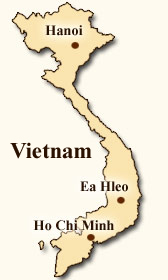 On July 26, four police officers and two government officials raided a house church in Tran Phu Commune in Hanoi and announced that it was illegal to worship and teach religion. When the believers, who had previously attempted to register the church, refused to sign a document admitting they were meeting illegally, a police officer told them, "If I find you meeting here next Sunday, I will kill you all like I'd kill a dog!"
Pastor Mai Hong Sanh of the Vietnam Good News Mission Church in the town of Ea Hleo, Dak Lak Province, was sentenced on July 31 to three months of "local re-education" for expanding his house and giving religious training without permission. Pastor Mai was not permitted to defend himself in court and authorities arranged for people to testify against him who were allegedly members of another church.
Approximately 15 police officers wielding batons and electric prods barged into a house church on August 2 in Xuan Thoi Thuong Commune in Ho Chi Minh City and demanded the Christians leave immediately. The leader of the house church, Nguyen Van Chinh, had previously attempted to register the church but was told that he must permanently cease their meetings.
Pray that Christians in Vietnam will remain true to Christ in the midst of pressure and oppression. Pray that those who oppose Christians in Vietnam will turn to faith in Jesus and become demonstrations of God's love and mercy to others (1 Timothy 1:16).
To find out more about Vietnam's suffering Christians, click here.