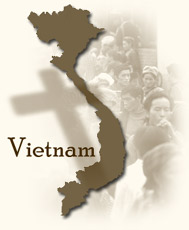 Two Vietnamese evangelists -- Ksor Y Du, 47, and Kpa Y Co , 30 -- were recently given harsh prison sentences for "undermining national unity." On November 15, a court sentenced Ksor Y Du to six years in prison followed by four years of house arrest. Kpa Y Co was sentenced to four years in prison and two under house arrest.
The men -- members of the Vietnam Good News Mission (VGNM), a fast-growing group of house churches -- were arrested on January 27, 2010. Both evangelists, who are of the Ede minority, live in Song Hinh district of Phu Yen Province, where there are some 20 VGNM congregations.
Up until the recent trial, Y Du and Y Co have been held without charge. Officials have repeatedly interrogated them and ordered them to accuse VGNM leaders of starting the organization illegally, as well as accuse their pastor of opening an illegal Bible school. Both refused to comply, angering the authorities. Authorities have also pressured Y Du's wife to recant during her visits to her husband by offering to give her family rice and a new house. They also told her that Y Du would be released if she denied Christ, but she stood firm in her faith.
Y Du was previously imprisoned for standing up for the rights of Christians and ethnic minority people in Vietnam's Central Highlands. In 2004, he was caught trying to flee to Cambodia along with hundreds of others. This followed demonstration against illegal confiscation of land and religious oppression in the area. He spent four years in prison and one under house arrest. In September 2009, five months after he joined VGNM, he was interrogated by officials in relation to accusations of taking orders from abroad to incite people to join his church.
During the November 15 trial, the judges asked Y Du questions, including: "Do you still insist on following the religion?" and "After serving in prison already, do you still insist on staying with the Vietnam Good News Mission?" Y Du answered that he would not give up his faith in God, even if it meant death.
Thank the Lord for equipping these believers to stand courageous in their faith amid great opposition. Pray that Ksor Y Du and Kpa Y Co will continue to be empowered by God's grace and comforted by His love. Ask God to work in the hearts of the officials, moving them to repent of their injustice toward Christians and act with true integrity.
For more on the trials facing Christians in Vietnam, go to the Vietnam Country Report.