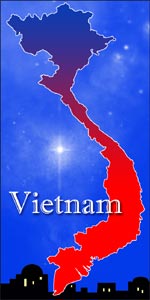 Authorities have put a halt to Christmas celebrations in several areas of Vietnam in what appears to be a central government crackdown on Christianity. On December 19, hundreds of Christians arrived at the National Convention Center in the Tu Kiem district of Hanoi for a planned Christmas event. However, they found the doors of the building locked and police on scene who tried to send them away. In a bold move, some of the Christians began to sing and pray in the square in front of the center. Police then struck some Christians with their fists and nightsticks. Christian leaders worked to calm the crowd, which eventually left, but not before at least six people -- including Rev. Nguyen Huu Bao, the event's scheduled speaker -- were arrested. At last report, the six individuals were still detained.
Similar incidents occurred on the same day in Thanh Hoa, Nghe An and Quang Nam provinces, and in the city of Danang in central Vietnam. Officials injured believers and, in some cases, also confiscated or destroyed property belonging to the believers.
Pray the victims of these crackdowns will be encouraged and emboldened by God, their Immanuel, who loves them and leads them at all times. Pray for peace to reign in the hearts of God's followers in Vietnam this Christmas. Pray that authorities will receive the saving grace of Jesus.
You can learn more about believers suffering for their faith in Christ in Vietnam at the Vietnam Country Report.