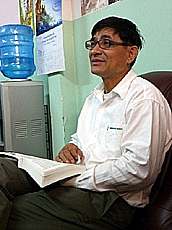 Pastor Quang speaks with
VOM's Greg Musselman
In Vietnam, one of the most tightly controlled nations in the world, Christians face severe opposition for their faith and witness. Staff from The Voice of the Martyrs and 100 Huntley Street, a Christian television program, recently travelled to Vietnam to meet with suffering believers. Some have family members who are imprisoned for serving Christ. Others are underground church members who live with the constant threat of arrest and imprisonment.
Among the believers visited was Pastor Quang, a prominent church leader and lawyer in Ho Chi Minh City. Pastor Quang has been imprisoned, slandered in newspapers and followed by police in recent years. In December 2010, authorities demolished a building that was both his home and the headquarters of the Vietnam Mennonite Church (for more information, click here).
Pastor Quang continues to face intense pressure from authorities, and members of his congregation are routinely interrogated. He is confident in Christ, however, and he and his church are determined to continue proclaiming their faith in the Lord. "Once we serve God surely we must go the way of the cross, so I will not quarrel against the Lord for what has happened," Pastor Quang said. "[And] once the government tries to use violence it means they are defeated already."
Pray imprisoned Vietnamese believers will be released. Ask God to enable them to share his grace and truth with others, even in prison. Pray God's comfort and provision for their families. Pray all those facing trials for their faith in Vietnam will draw near to God, trusting that He will guard the feet of his faithful servants (1 Samuel 2:2).
You can learn more about the trials facing Christians in Vietnam at the Vietnam Country Report.