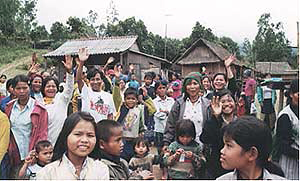 Montagnard village
Recently, the Vietnamese government has been increasingly harassing a peaceful group of Montagnard Christians living in the Central Highlands of Vietnam. Although Christian Montagnards have always been a target of persecution, the Vietnamese government has stepped up its repression of this indigenous minority -- forcing hundreds to renounce their religion. According to a report from Human Rights Watch, "the Vietnamese government has increased its harassment of peaceful ethnic minority Christians in the Central Highlands, targeting members of unregistered house churches."
Pray the Lord will protect these believers and give them the strength they need to stay faithful and remain effective witnesses for Christ. May they rely on the Lord to give them the words to say when they stand before accusing authorities (Matthew 10:19). Pray for the perpetrators and all those in authority.
Read more about persecuted Christians in Vietnam at the Vietnam Country Report.