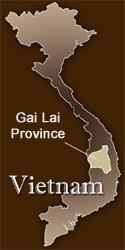 A violent attack against minority Degar Montagnard Christians in the central highlands of Vietnam took place in July, leaving 16 Christians severely injured. One Christian man remains under arrest, his condition unknown.
On July 7, at approximately 8 p.m., Vietnamese security forces and police descended upon a worship service in the village of Buon Kret Krot, Gai Lai Province, and began kicking and beating the attendees. Security forces threatened the villagers, stating: "If anyone worships like this way, we will return to arrest you all and put you in prison for five years." Of the Christians attacked, 10 men and two women were beaten to the point of unconsciousness.
Pray the Lord will bring swift and complete healing to those who were injured. Pray for the release of the believer who was arrested. Ask the Lord to strengthen these believers. Pray Christians in Vietnam will continue to meet together in spite of the opposition. Pray for the perpetrators of this attack.
For more on persecution in Vietnam, go to the Vietnam Country Report.