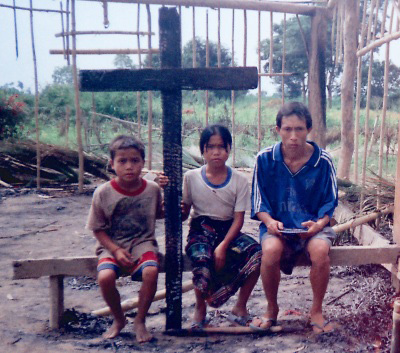 These Christians in Southeast Asia hold the
charred cross from their destroyed church.

Officials in Cao Bang province in northern Vietnam are continuing in their persecution of Christians (read the story). Recently, two Hmong families were forced to move from their village by local officials who demanded they give up their new-found faith or leave.
Those who live in Cao Bang are very poor and still practice ancestor worship; those who convert to Christianity are forced to leave the village. Instead of giving up their faith, the two Christian families moved to Thai Nguyen province. Although the land is inadequate for farming, they are happy to be able to freely worship God.
Please pray for these families and other Christians from Cao Bang province as they are forced to establish new lives in new places. As sufferings overflow, pray that their comfort in Christ will be more than enough for them (2 Corinthians 1:5). Also pray that God will soften the hearts of the Cao Bang authorities.
For more on Vietnam's persecuted Church, go to the Vietnam Country Report.