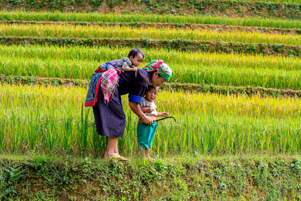 As believers met for worship on the morning of October 7th in Cuor Dang Commune, Daklak Province, local authorities entered the home where they were meeting, demanding that they stop all religious activities. Those present refused to leave, saying that any action would have to wait until after they were finished. Because the home was crowded, the officials were forced to wait outside.
As the congregants dispersed, orders were given that the church leader, Ama Sim, was to go with them for questioning. The church refused, fearing that he might disappear. The officers finally relented and told them, "We are giving you a warning this time; but next Sunday if you still gather, we will bring more crowds to shut you down."
The Christians who were at the gathering are members of the Montagnard people, an ethnic minority that frequently faces persecution because of their ethnicity and Christian faith. The government in Vietnam is also nervous about large gatherings, fearing "subversive activities."
Praise God for the strength and bravery of these believers in the face of threats. Pray for their continued endurance and protection, despite ongoing opposition. Intercede for the local authorities that they too will experience the Lord's transformative power in their lives. Through the work of the Holy Spirit, may the Gospel spread throughout Vietnam.