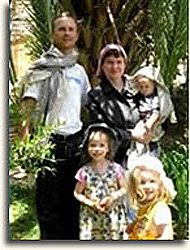 The Hentschel family
June 12 marked the second anniversary of the kidnapping of nine foreigners in Saada, northwest Yemen, three of whom were murdered and two of whom were freed last May (click here for more). There continues to be no news of Johannes and Sabine Hentschel, a German couple, and their young son, Simon, or of Tony, a British man. Johannes and Sabine's daughters, Lydia, 6, and Anna, 5, are currently living with relatives in Germany and reportedly in good health. It is understood that both German and British investigators have stopped the active search for the missing believers. Those close to this situation remain hopeful that those still missing are alive and ask for continued prayerful intercession on their behalf.
Pray the status of the missing Christians will be made known. Pray that, if they are alive, they will rest in the Lord's care and soon be released unharmed. Pray the families and loved ones of those missing and murdered will know the peace of Jesus amidst continuing speculation and uncertainty. Ask God to encourage and guide Yemen's Christian minority, most of whom are foreigners working in the country who are often isolated from one another in their walk of faith.
You can learn more about believers serving Christ at great risk in Yemen at the Yemen Country Report.