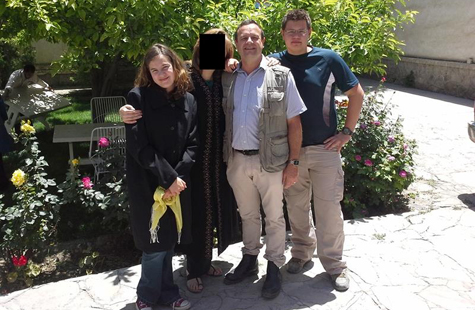 The Groenewald family
Three South Africans and two Afghan nationals were killed in an attack on the Partnership in Academics & Development compound in Kabul on Saturday, November 29th. Werner Groenewald was killed along with his 17-year-old son, 15-year-old daughter, and two Afghan co-workers.
Three Taliban gunmen had entered the compound dressed as policemen and carried out an attack that lasted for three hours. Werner's surviving wife, Hannelie, was at the clinic where she worked as a doctor when the attack occurred. Werner, who had worked in Afghanistan for 12 years, was killed while trying to protect his children.
The Taliban later claimed responsibility for the attack by posting a message on the Twitter social networking site, stating that it was a "Christian proselytizing compound." A friend of Werner's reported that he had closed his last session with an international group of co-workers by saying, "We only die once, so it might as well be for Jesus."
(To learn more about what Christians are facing in Afghanistan, review our online country report.)
Please uphold the distraught families of the two slain Afghan workers and Werner's now suddenly widowed wife, Hannelie, who has tragically lost three close family members of her own. Ask the Lord to supernaturally sustain these bereaved Christians as they come to terms with their tremendous loss. Pray that as they grieve, He will give them the strength and grace needed to exemplify His love through their Godly response, as well as through their prayers for the persecutors (Matthew 5:43-48). May their tragic loss not be in vain, but rather serve as a powerful testimony -- one that will ultimately strengthen fellow believers and draw many Afghans to Christ.