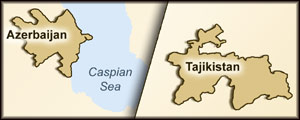 Many religious communities in Azerbaijan and Tajikistan have not yet re-registered with authorities, as required by restrictive religion laws that were passed in both countries earlier this year (for more information, click here and here). If religious communities fail to register by January 1, 2010, they will be considered illegal.
As of December 16, only about 100 of the 534 religious communities in Azerbaijan that previously had registration statuses have re-registered. Amendments to the Religion Law will require communities to provide an increased range of information when applying for registration and to obtain approval to build or rebuild worship places. Additional amendments include a ban on the sale of religious literature in unapproved locations and on religious activity outside registered addresses.
In Tajikistan, fewer than half of the religious communities in the country have been re-registered. The highly restrictive Religion Law imposes state censorship on all religious literature, bans state officials from being among the founders of a religious community, requires state approval to invite foreigners for religious visits or to travel abroad for religious events, and restricts children's religious activity and education. (Source: Forum18)
Pray that authorities in Azerbaijan and Tajikistan will respect freedom of religion. Pray that Christians in former Soviet republics will echo Peter's sentiment and be determined to obey God regardless of what man says (Acts 5:29).
To find out more about the hardships Christians face in Azerbaijan and Tajikistan, go to the Azerbaijan Country Report and the Tajikistan Country Report.