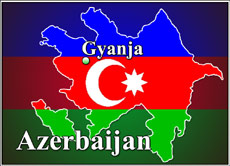 Three religious communities in Gyanja, Azerbaijan, have been banned from meeting for worship. The worship bans were imposed in mid-March because the communities do not have state registration. However, Babek Sadykov of the Gyanja Police denied this ban, claiming, "no one is being prevented from worshipping." Local sources told Forum 18 that one of the communities was warned that "if they met for worship on the following Sunday or at any future date they will all be arrested." Two buses full of ordinary police and riot police later arrived to prevent any religious worship. Protestants told Forum 18 that the church had already reluctantly decided not to hold one big Sunday service that day. "People are now very afraid."
Meanwhile, President Ilham Aliev told a government-initiated World Forum on Intercultural Dialogue that "freedom of religion [and] freedom of conscience has been fully established in Azerbaijan."
Ask the Lord to grant true religious freedom in Azerbaijan. Pray believers will be encouraged to continue to meet together despite opposition (Hebrews 10:23-25). Pray believers will be unified and encouraged as they continue to walk in faith and be an effective witness for the gospel to all those around them, including the local police.
Read more about the persecuted Church in Azerbaijan at the Azerbaijan Country Report.