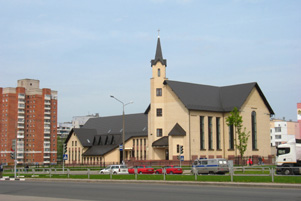 Officials have rejected the registration application for the Pentecostal Your Will Be Done Church in Minsk for the sixth time after a government official pressured a potential landlord to not rent their facility to the church. Due to fear of punishment, the congregation has chosen to not meet for worship without registration.
The Baptist Union has also faced registration problems while planning for an International Festival of Hope event which was initially scheduled to take place in Minsk on May 4th and 5th. Members of this denomination have faced continued delays in obtaining permission. Ultimately, they had to cancel their plans when no answer was received by mid-February. Earlier plans to have Franklin Graham as one of the featured guest speakers were cancelled when permission for him to speak had been denied. The Baptist Union intends to continue with plans for the festival at a later date, provided permission can be obtained.
In response to systemic refusal to register religious organizations, the United Nations Human Rights Committee released a statement in October 2018, expressing concerns and calling on Belarus to repeal the requirement for mandatory state registration of religious communities. The UNHRC sees the repeated denials as "undue restrictions." For more details on persecution in Belarus, go to our country report.
Pray for the many churches in Belarus that are facing undue delays and registration denials. Despite the attempts of governing officials to hinder the work of the Gospel, may the Lord make a way for needed ministry to take place among the country's Christian community, as well as those who are spiritually searching for truth. Remember the organizers' plans for the "International Festival of Hope," praying that they will be able to use this opportunity to reach out to the people of Minsk and surrounding areas.