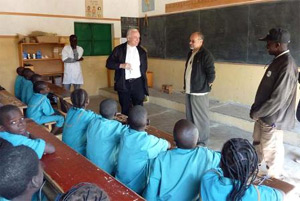 Giampaolo Marta and Gianantonio Allegri in a classroom.
Photo: Vicenza Diocese via World Watch Monitor
Three Christian humanitarian workers were kidnapped on the night of April 4th after a group of armed men stormed their small parish in Tchéré. The assailants also ransacked church buildings before heading toward the nearby Nigerian border.
Gilberte Bussiere, a Canadian nun who is in her mid-70s, as well as Giampaolo Marta and Gianantonio Allegri, two priests from Italy, were all involved in social development and education within the country. At last report, there was no news of the missing missionary workers.
Sources suspect that the Islamic group Boko Haram may be responsible for the abductions, as the group has kidnapped other Christians and foreign nationals in the area. Cameroon's north -- which borders the countries of Nigeria, Chad and Central African Republic -- has become a base for such militants.
"Our Muslim neighbours have expressed their compassion and sympathy towards us. Many say they fear that a scenario similar to that affecting their immediate neighbours, Nigeria and the Central African Republic, could happen in northern Cameroon," a church leader shared.
Please bring Gilberte, Giampaolo and Gianantonio to our Lord in prayer, asking that He sustain and encourage them during this difficult trial. Pray that they will very soon be released unharmed. Until then, may they be a witness to their abductors of the love of Christ, prompting them to learn more about our Saviour. Please also pray for peace and stability in northern Cameroon.