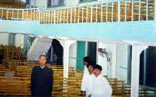 The church before the destruction
Photo from ChinaAid
According to a June 18 report from ChinaAid, a Christian woman sentenced in December 2006 to three and a half years in prison for protesting the government's destruction of a church building in Xiaoshan, Zhejiang province (click here for more information), was released on March 4. Shen Zhuke is the last of eight Christians detained following the demolition to be released.
To learn more about the faithfulness of Chinese believers who face ongoing persecution, click here.