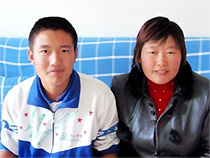 Chen Le with his mother
Photo from ChinaAid
According to an October 29 report from ChinaAid, a 17-year-old high school student who was expelled on October 20 after he signed a document confirming his Christian faith (click here for more information) was able to return to class on October 29. On October 28, the Party Secretary of the High School Division and several other party members and instructors from the Huashan Middle School visited Chen Le at his home and politely invited him to return to his studies. The Party Secretary was reportedly deeply concerned with the international pressure caused by the expulsion.
Chen Le plans to continue with his education and take the College Entrance Exam at the end of the school year. To learn more about the persecution of Christians in China, click here.