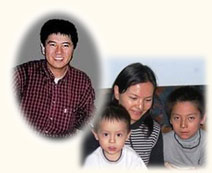 Alimujiang Yimiti and his family
Photos from ChinaAid
On March 16, The People's High Court of the Xinjiang Uyghur Autonomous Region rejected an appeal from Alimujiang Yimiti (37), a Uyghur house church leader. Alimujiang was sentenced in October 2009 to 15 years' imprisonment for "providing state secrets to overseas organizations" (
click here
for more information).
One of his lawyers, Li Dunyong, believes Alimujiang's Muslim background is a large issue in the case. Another of his lawyers, Li Baiguang, reported, "We are fairly sure that there are a lot of factors which are totally outside the law that have influenced the investigation of this case. This is very clear from the procedures that were followed within the courts and from the final decision." (Source: Radio Free Asia)
Pray that Alimujiang, his wife and their two sons will rest in the knowledge that the Good Shepherd walks with them through this difficult time (Psalm 23). Pray for protection and strength for Alimujiang while in detention. Pray that authorities will act justly in this case and that Alimujiang will be released soon.
For more on suffering believers in China, click here.