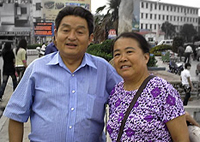 Pastor "Bike" with his wife
Photo from ChinaAid
The court proceedings for the trial of Liu Yunhua and Gao Jianli, two Chinese Christians imprisoned in Xuchang, Henan province, began on September 20. The outcome of the proceedings is not yet known. It was reported, however, that several believers who had come to witness the event were detained, including the previously imprisoned Pastor "Bike" Zhang Mingxuan and his wife (for more about the trials Pastor "Bike" has faced from authorities,
click here
). Pastor Zhang and his wife were released a few hours later. Other local Christians, including the son of the defendant Liu Yunhua, were detained by authorities on their way home from the trial. These believers remained detained at last report. (Source: ChinaAid)
Pray for the release of the detained believers. Pray for patience of heart and strength of faith for Liu and Gao as they face opposition. Ask God to continue to equip and embolden Pastor Zhang in his ministry.
For more information on the opposition facing Christians in China, visit the China Country Report.