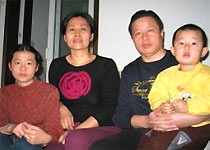 Gao last seen with his family in January 2009
Photo from ChinaAid
For nearly two years, Gao Zhisheng, a Christian human rights lawyer in China has been detained by authorities, his whereabouts often unknown (click here for more details). Initially, authorities seized him from his home in Shaanxi province on February 4, 2009, and held him incommunicado for 13 months. In early April 2010, news surfaced that he had been released. Shortly thereafter, however, he was again reported missing.
In an October radio interview, Gao's wife, Geng He, expressed her and her family's eagerness to find him: "My family only wants to get some news of him. When I talked with his sister, she said: 'He is a member of the family. No matter what he does, such as eating the daily meals, sleeping or even taking a walk outside, anything would make us miss him. Where on earth has he gone?' The entire family of mine is puzzled and we have been looking for him ever since."
Pray for continued resilience of faith and comfort for Gao's loved ones in these uncertain times. Pray that Gao will continue to look to his Lord and Father for strength and guidance as he suffers. Pray that Chinese authorities will justly respect religious freedom. Pray that the Church in China will continue to show the light of God's love and truth and remain strong amid opposition.
For more information on the suffering of China's Christian community, go to the China Country Report.