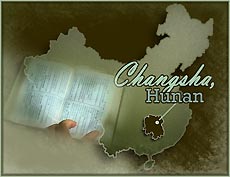 Chinese authorities raided a house church worship service held by members of the Hope Church in the city of Changsha, Hunan Province, on December 12. At approximately 9:30 a.m., dozens of believers were gathered for worship when police officers and government officials arrived on scene. The authorities forced the believers to disperse and confiscated several items belonging to the church, including the podium, chairs and air-conditioner. They also took into custody two of the believers -- Pastor Zing Jinfu and Minister Le -- who were taken to a local police station and questioned for a couple of hours.
It is not known if this raid was part of the nationwide "Operation Deterrence" campaign that the Politburo of the Chinese Communist Party launched on December 1 against all house churches in the nation. Even if it was not officially part of this campaign, there is fear that local authorities could be increasing the frequency and severity of their moves against this church in the coming weeks in relation to the nationwide crackdown.
Pray that members of the Hope Church will be encouraged to continue to meet together despite opposition (Hebrews 10:23-25). Ask God to embolden all believers in China to continue to proclaim their faith in Him boldly and demonstrate His love to others in the nation. Pray for significant and lasting advances in religious freedom in China.
For more on the persecution of Christians in China, go to the China Country Report.