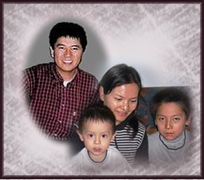 Alimujiang Yimiti and his family
Photo from ChinaAid


In November 2010, the People's High Court of the Xinjiang Uyghur Autonomous Region in Urumqi, China, accepted the appeal of an imprisoned Uyghur house church leader, Alimujiang Yimiti, to have his case reviewed. Alimujiang was arrested in January 2008 and sentenced in 2009 to 15 years' imprisonment for "providing state secrets to overseas organizations" (click here for more information).
Since his arrest, Alimujiang has had extremely limited contact with his family. In December, his wife, Gulinuer, and lawyer, together with a lawyer who understood the Uyghur language (in which Alimujiang's case files are written), prepared an appeal. The judge, however, informed them that the collegiate bench had already studied the case and allegedly made a decision. Although authorities initially claimed that Alimujiang's lawyer and family would be able to meet with him, they have repeatedly denied them visits. At last report, neither Alimujiang's family nor his lawyer had received any further information on his case.
Pray for Alimujiang's freedom and complete exoneration. Pray the re-opening and review of his case will expose the injustice of the situation. Pray those responsible for creating a false case against him will repent of their unjust actions. Pray Chinese authorities will uphold the rights of ethnic and religious minorities. Pray the Church in China will continue to grow in strength and resilience amid suffering and adversity.
You can find out more about the suffering Church in China at the China Country Report.