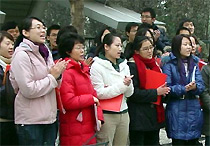 Shouwang Church members were forced
to worship outdoors in 2009.
Photo from ChinaAid
Police in China held "about two dozen" pastors and elders of Beijing's Shouwang Church under house arrest or at police stations over the past weekend to keep them from attending a Sunday worship service in a public location. Hundreds of police cordoned off the walkway to a third-floor outdoor meeting area and arrested at least 160 members of the 1,000-strong church as they tried to assemble. Most have since been released. Three top leaders of the church remain in jail and several others are under strict surveillance.
Church leaders claimed officials pressured landlords, forcing the church out of its locations and leaving the leaders no choice but to worship in the open. "The government cornered them into making this decision," said Bob Fu, president of ChinaAid Association, noting that the church initially tried to register with the government. "They waited for two years, and when the government still denied them registration, they tried to keep a low profile before finally deciding to buy the Daheng New Epoch Technology building." Shouwang is a very unique church, Fu said, as most members are well-educated, and include China's top religious scholars and former government officials, which may be a factor in the government's response.
Thank the Lord for the courageous and faithful believers in China who are willing to glorify His name in public. Pray for the release of the remaining church leaders. Ask the Lord to continue to grow His church in strength and unity.
Read more about the persecution of Chinese Christians at the China Country Report.