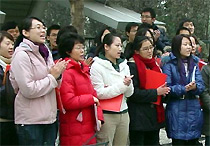 Shouwang Church members were forced
to worship outdoors in 2009.
Photo: ChinaAid
For the sixth straight week, members of Shouwang Church in Beijing, China, have faced opposition from authorities for trying to hold outdoor Sunday worship (click here for more information). On May 15, Beijing police rounded up about 20 church members and roughly 100 church members were confined to their homes to prevent their going to the outdoor worship site. By noon, a few of those taken into police custody were released. Some of the church's leaders, however, including its pastors and elders, have been under extra-judicial house arrest since April 9, the day before the first outdoor worship attempt.
Christians throughout China are advocating for their brothers and sisters belonging to the Shouwang Church, one of Beijing's largest underground churches. The leaders of 17 unofficial Christian churches in China recently appealed to political leaders to protect their right to worship. A petition, addressed to the National People's Congress chairman, has been delivered to parliament, demanding an investigation into the treatment of church members.
Pray for continued resilience of faith for members of the Shouwang Church. Thank the Lord for the many believers willing to stand in solidarity with these suffering believers. Pray that Chinese authorities will be moved by the witness of Christ's Body and come to justly respect religious freedom. Pray that the Church in China will continue to show the light of God's love and truth and remain strong amid opposition.
Note: ChinaAid Association (CAA), a partner of Voice of the Martyrs and valued source of news and advocacy on behalf of persecuted Chinese Christians, has reported that their web server has been under attack in recent weeks. It is suspected that this attack may be a result of CAA's reporting on the Shouwang Church. At last report, the website had been restored. Please pray, however, for CAA as it continues to raise a voice for the suffering Church in China.
To find out more about the challenges facing Chinese followers of Christ, go to the China Country Report.