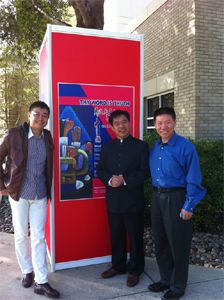 Shi Weihan, Liu Zhenying and Bob Fu
at the entrance of the Chinese Bible
exhibition in Dallas.
Photo: ChinaAid
A deceptive exhibit in the United States that displays Chinese Bibles is causing North Americans to believe there is religious freedom in China, say three former Chinese house church leaders.
The Christian leaders, who were all imprisoned in China for their beliefs, voiced their disdain for the display while visiting the exhibition "Thy Word is Truth" on the campus of Dallas Theological Seminary. The exhibition has already been viewed in Washington, D.C. and Chicago.
On November 1, a forum regarding the exhibition was held at Northwest Bible Church in Dallas. The participants -- representatives of China's government-controlled church and two professors from Dallas Theological Seminary -- strongly supported the notion that China respects religious freedom and that scriptures are readily available to believers. However, this is simply not the case.
Despite the government-run Amity Press' reports that millions of Bibles have been published in China, about two-thirds of them are exported, leaving many Christians without a Bible (for more on the need for Bibles in China, click here).
Please pray along with ChinaAid's founder and president, Bob Fu: "We hope and pray to our Lord Jesus Christ that China's house churches can soon be legally recognized, that all our brothers and sisters who are in prison for the sake of their faith would be quickly released, and that the Bible in China could be freely printed and transported."
For more on our suffering brothers and sisters in China, please visit the China Country Report.